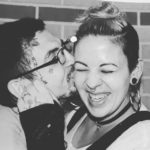 Der Link zum Spenden und der Link für mehr Infos über Eric King (alles auf Englisch).
We're here to raise money for Eric's partner, and their two children who are currently experiencing financial hardship. Life is already tough as a mother of two with her partner in prison, but she was also recently in a car accident, which thankfully left her in okay shape, but has left her care in unsafe conditions for long distance or highway driving. Even more recently she was diagnosed with thyroid cancer, the severity and treatment of which is still being determined. Treatment for the pain alone will financially destabilize the family, on top of future specialists visit, car repairs, and potential unemployment (due to the chronic pain experienced).
Eric's partner tirelessly supports him, facilitates excellent communication between Eric and the outside world, consistently advocates for his rights inside the prison, emotionally supports him through the political battles on the inside, and drives hours to visit him every week, on top on tending to the needs of their children and working.
The recent developments in her life could have devastating impacts for her and her family. Donations are needed asap as the financial toll of these recent development have already taken effect. All of the funds donated will be used by her to support herself and her children in this difficult time in her life.
We will accept any amount from either debit or credit.
If you have any questions please do not hesitate to contact us at: erickingsupportcrew (at) riseup.net